Weekly COVID-19 Update is now available for VISD, visit News on the VISD COVID website.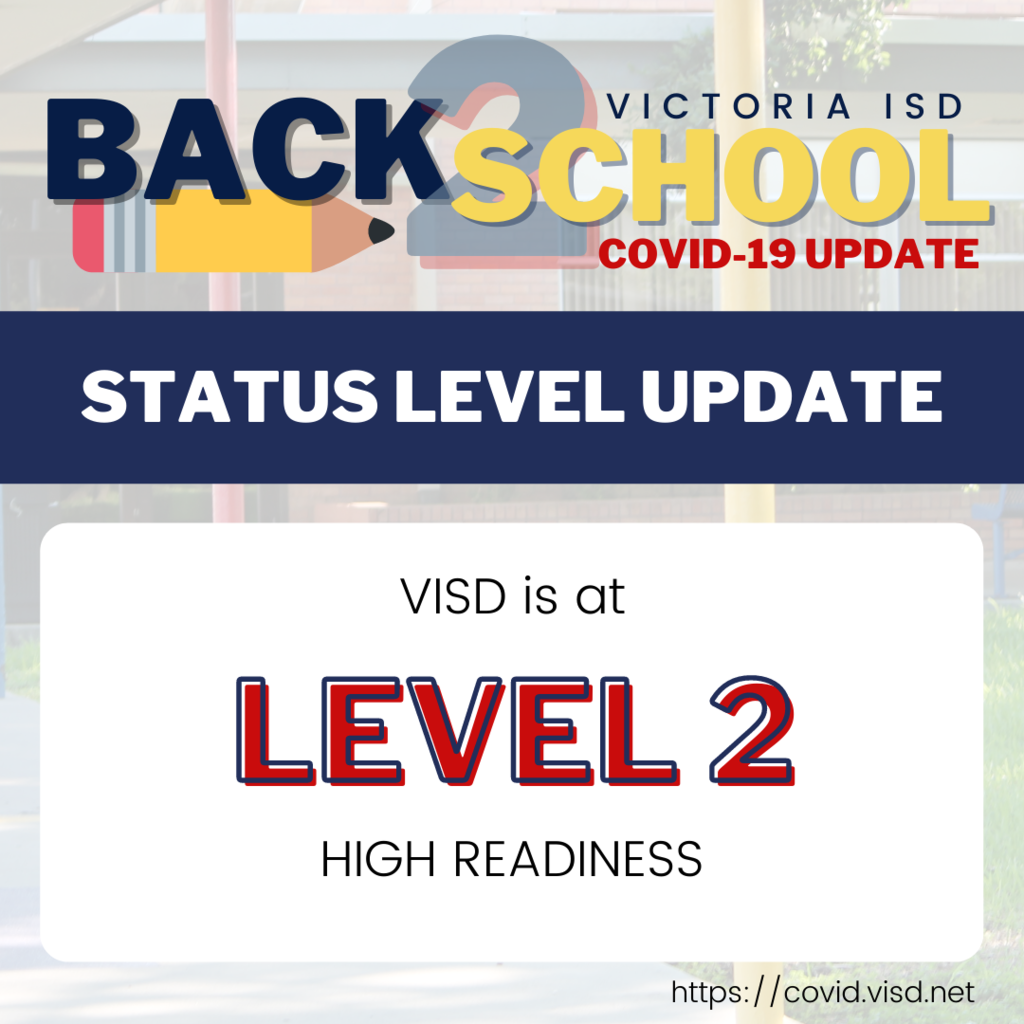 Weekly COVID-19 Update is now available for VISD, visit News on the VISD COVID website.

VISD weekly COVID updates are now available for the weeks ending Sept. 16 and Sept. 23, 2021

The Victoria ISD Board of Trustees unanimously approved the creation of Pandemic Leave Allotment for all district staff at Thursday's monthly board meeting. This allotment will provide an additional eight days of paid leave for any staff members required to quarantine due to COVID-19. The allotment of days will be retroactive, dating back to Aug. 4, 2021, giving staff who already used personal days due to quarantine those days back.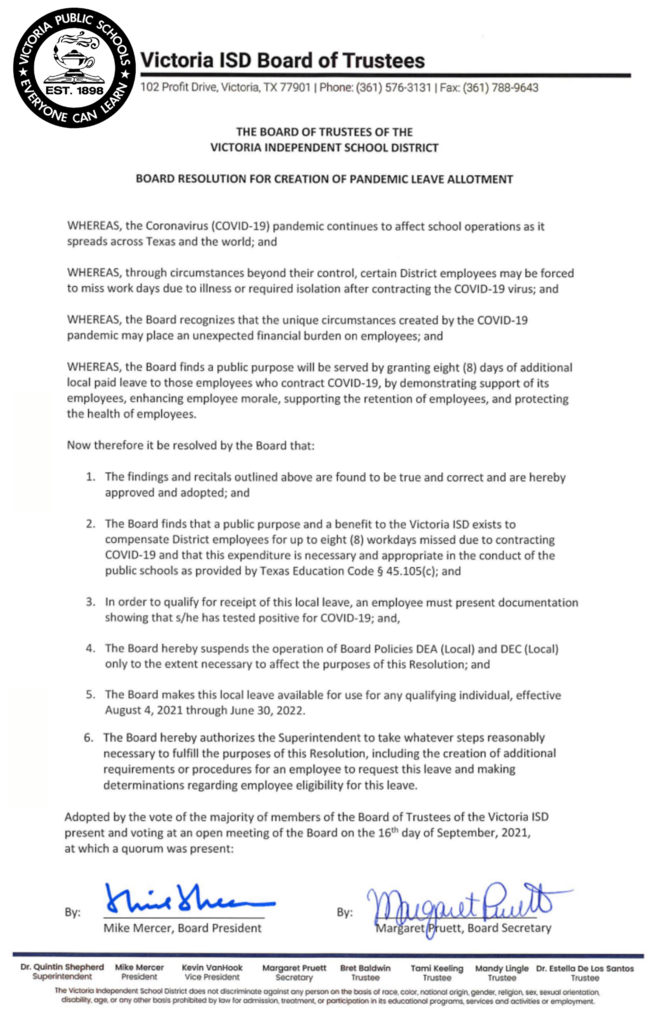 Victoria Virtual School will follow the Victoria ISD schedule for school closure and will 𝐧𝐨𝐭 have classes today.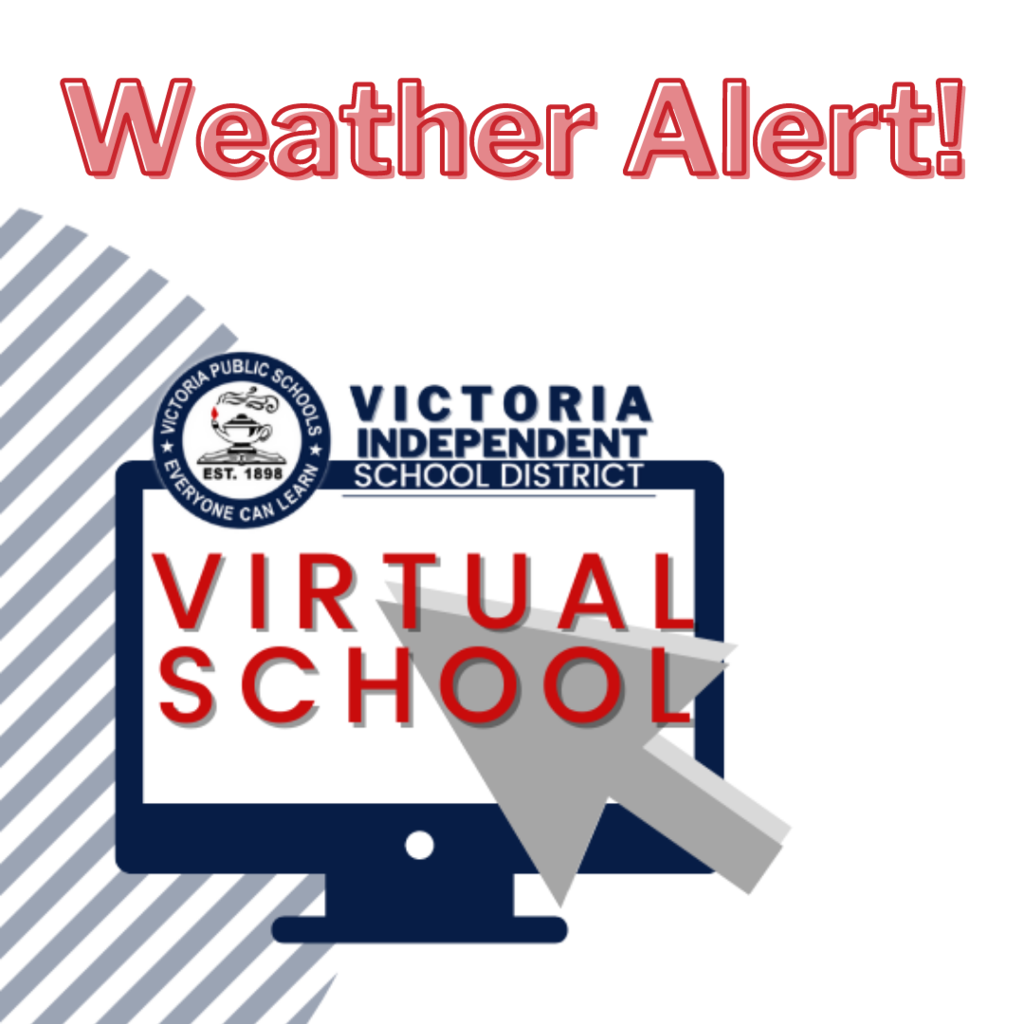 !! Out of an abundance of caution for our students and staff, VISD will be closed Monday, Sept. 13, 2021, due to TS Nicholas. All after-school activities are also canceled.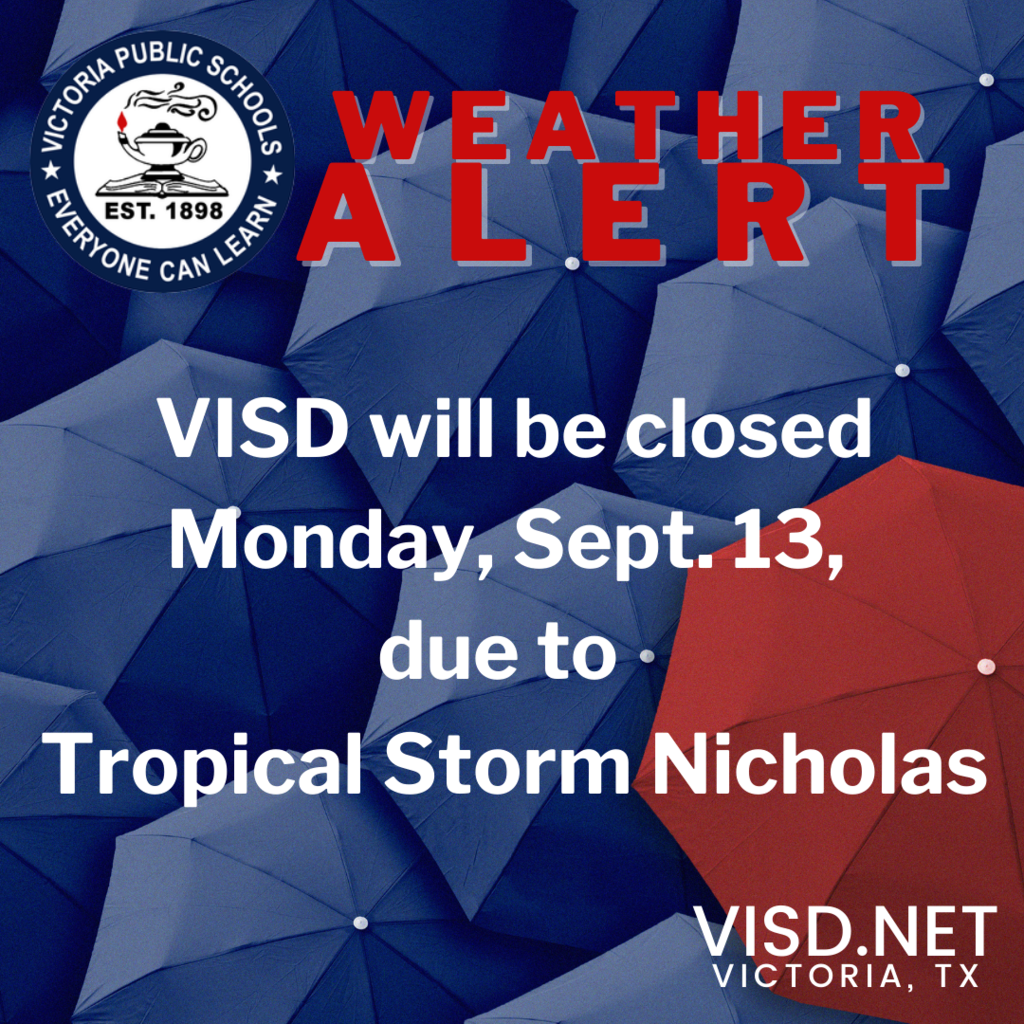 The Weekly COVID-19 Update is now available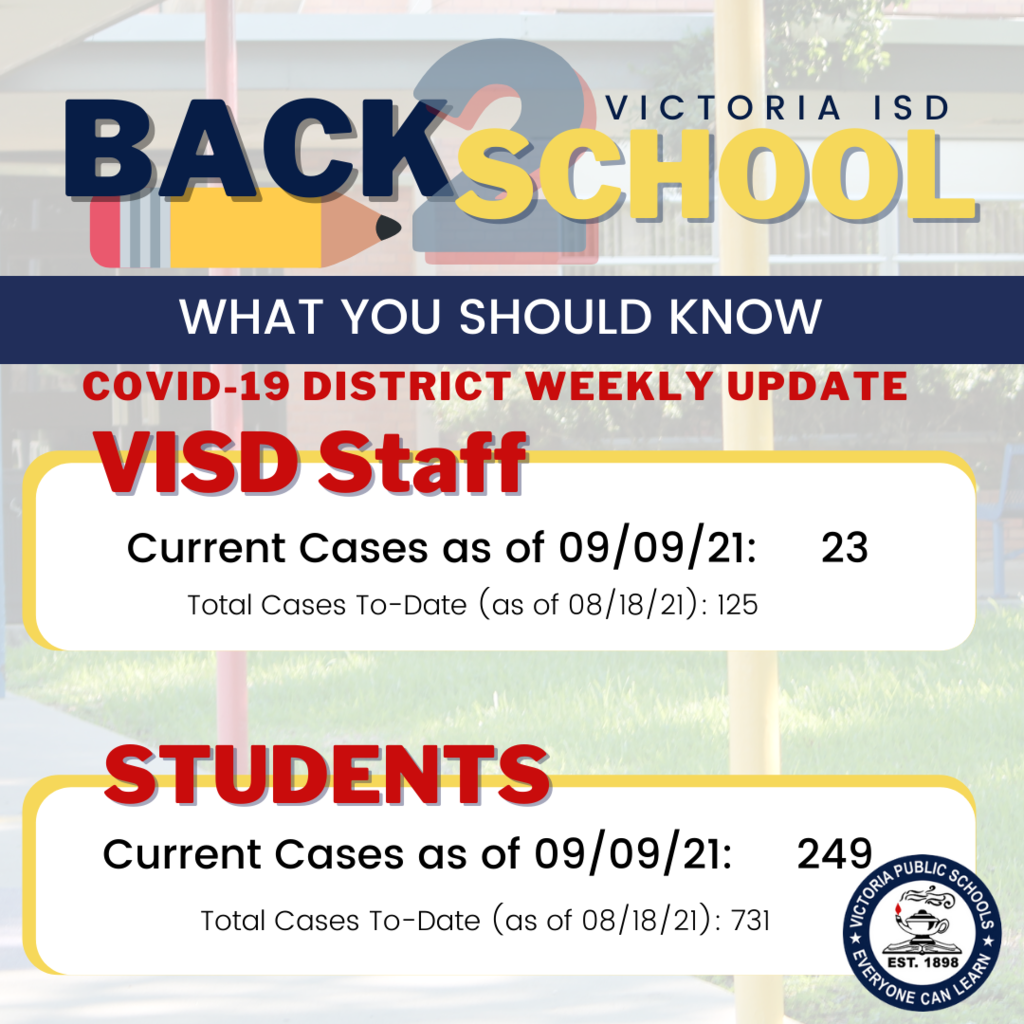 COVID-19 Update for Students who are close contacts! **This new guidance applies specifically to close contacts students because an individual who lives in the same household is COVID-19 positive. Read more, visit
https://www.visd.net/o/covid/browse/248567

𝗩𝗶𝗰𝘁𝗼𝗿𝗶𝗮 𝗜𝗦𝗗 𝗶𝘀 𝗻𝗼𝘄 𝗮 𝗟𝗲𝘃𝗲𝗹 𝟯 𝗼𝗻 𝘁𝗵𝗲 𝗩𝗶𝗰𝘁𝗼𝗿𝗶𝗮 𝗜𝗦𝗗 𝗦𝘁𝗮𝘁𝘂𝘀 𝗟𝗲𝘃𝗲𝗹 𝗳𝗼𝗿 𝗖𝗢𝗩𝗜𝗗-𝟭𝟵. This means that all VISD campuses and facilities will: ● Campuses will begin utilizing partitions during lunch periods. ● Campuses will begin restricting visitors. ● Campuses will begin postponing non-essential events where there will be large gatherings of people. ● Campuses will encourage large-group meetings of students to occur outside whenever possible. To view the full COVID-19 Status Level chart, visit
https://bit.ly/3DWAZxO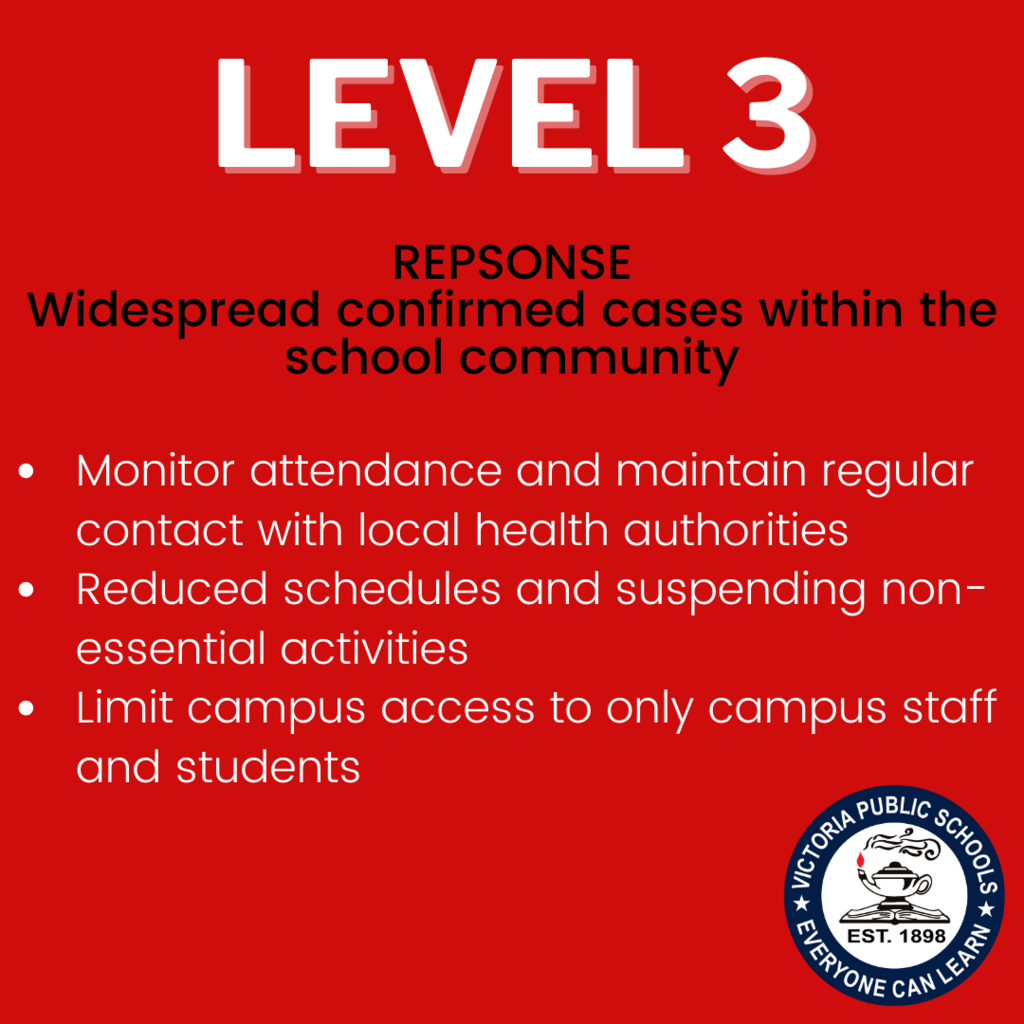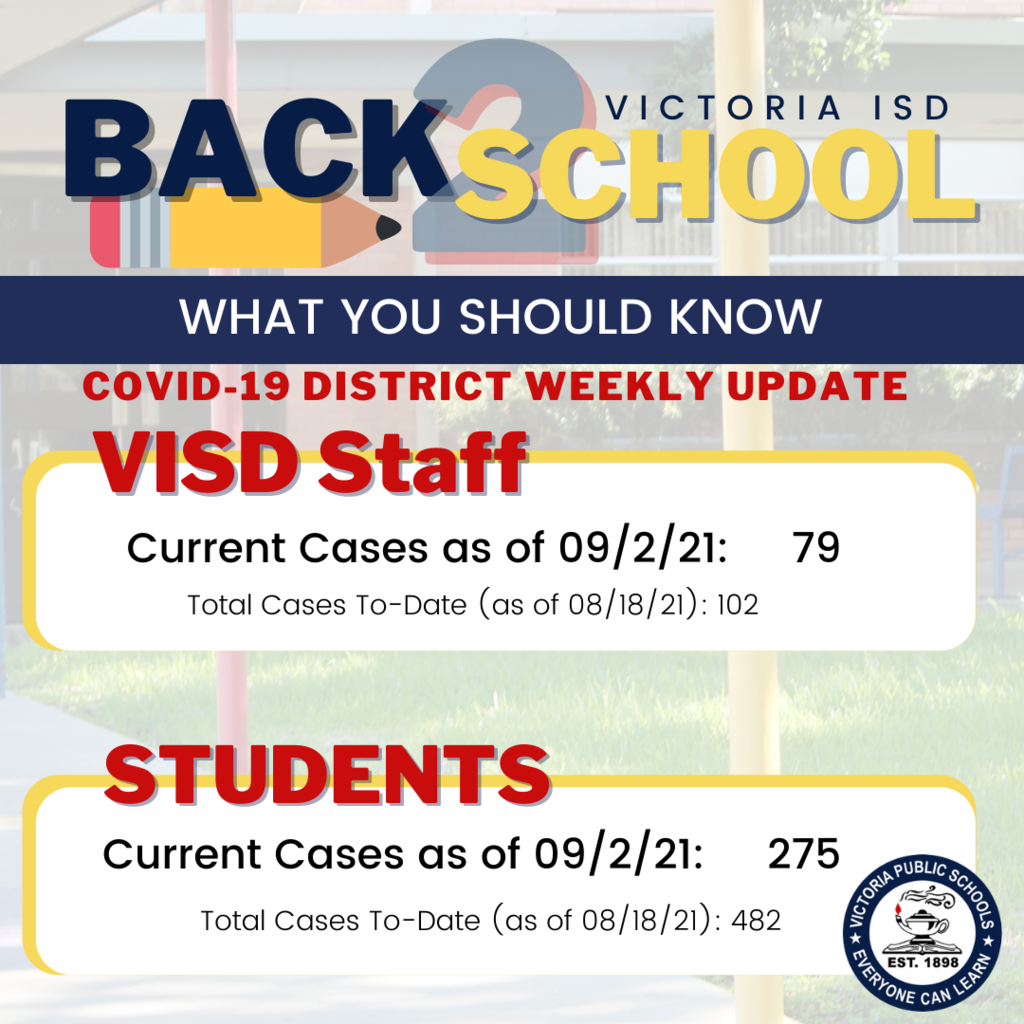 A Letter to the VISD Community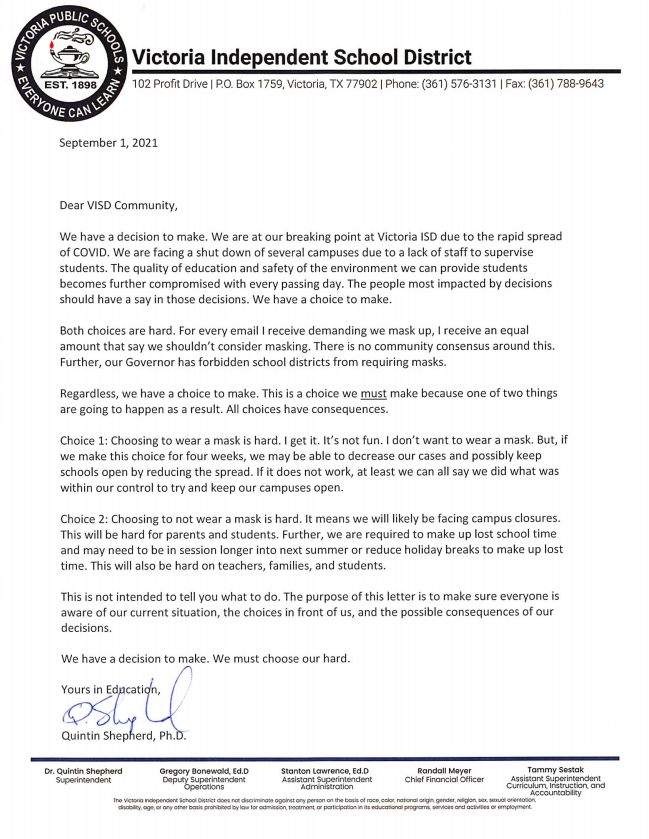 𝐅𝐎𝐎𝐓𝐁𝐀𝐋𝐋 𝐒𝐂𝐇𝐄𝐃𝐔𝐋𝐄 𝐀𝐋𝐄𝐑𝐓!!!! The East JV Football game scheduled for this Thursday 9-2-21 vs Alice at Patti Welder Stadium will now be played at 6 pm at Memorial Stadium, following the conclusion of the West Freshman Game at 4:30.

#𝗜𝗖𝗬𝗠𝗜 The AUGUST 2021 𝘼𝙙𝙢𝙞𝙣𝙞𝙨𝙩𝙧𝙖𝙩𝙞𝙤𝙣 𝙍𝙚𝙥𝙤𝙧𝙩 is available! Share your thoughts, comments, questions, or kudos! This is your report and we want to make it relevant for you. Your feedback will help us on our path to Continuous Improvement! Admin Report:
www.visd.net/administrationreport/
Feedback:
https://bit.ly/3sotKru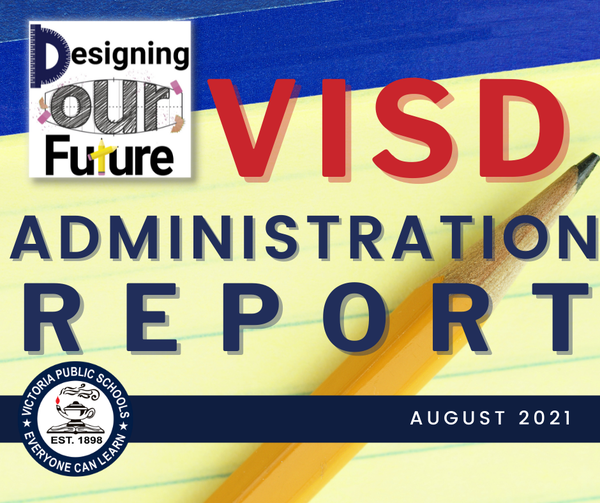 𝐘𝐎𝐔 𝐌𝐀𝐊𝐄 𝐀 𝐃𝐈𝐅𝐅𝐄𝐑𝐄𝐍𝐂𝐄 | 𝟐𝟎𝟐𝟏 The Board of Trustees honored the YMCA of the Golden Crescent at the VISD Board Meeting on August 19, with the You Make A Difference Award for their commitment to partnering with Victoria ISD to help provide students with opportunities to learn, grow and thrive. Did you miss the board meeting? Be sure to catch it on the VISD website, visit
https://bit.ly/3iIqzdd
. The next VISD Board Meeting is set for September 16.

Victoria ISD will resume posting weekly COVID updates on the district Facebook and at the end of every week. For Notice of Positive COVID-19 cases and campus letters, visit
https://bit.ly/3z5AO0u