#𝗜𝗖𝗬𝗠𝗜 The AUGUST 2021 𝘼𝙙𝙢𝙞𝙣𝙞𝙨𝙩𝙧𝙖𝙩𝙞𝙤𝙣 𝙍𝙚𝙥𝙤𝙧𝙩 is available! Share your thoughts, comments, questions, or kudos! This is your report and we want to make it relevant for you. Your feedback will help us on our path to Continuous Improvement! Admin Report:
www.visd.net/administrationreport/
Feedback:
https://bit.ly/3sotKru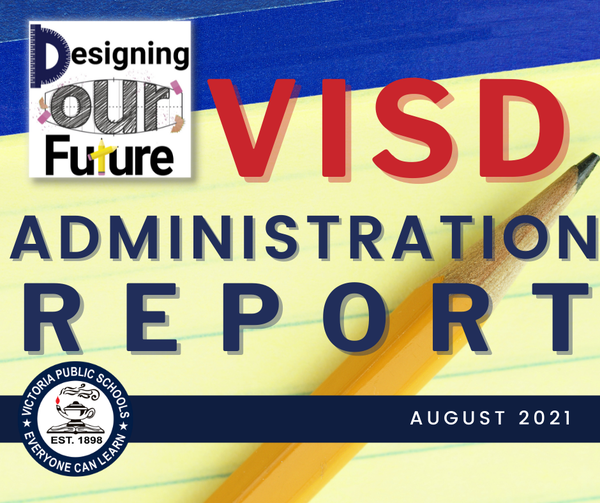 𝐘𝐎𝐔 𝐌𝐀𝐊𝐄 𝐀 𝐃𝐈𝐅𝐅𝐄𝐑𝐄𝐍𝐂𝐄 | 𝟐𝟎𝟐𝟏 The Board of Trustees honored the YMCA of the Golden Crescent at the VISD Board Meeting on August 19, with the You Make A Difference Award for their commitment to partnering with Victoria ISD to help provide students with opportunities to learn, grow and thrive. Did you miss the board meeting? Be sure to catch it on the VISD website, visit
https://bit.ly/3iIqzdd
. The next VISD Board Meeting is set for September 16.

Victoria ISD will resume posting weekly COVID updates on the district Facebook and at the end of every week. For Notice of Positive COVID-19 cases and campus letters, visit
https://bit.ly/3z5AO0u